---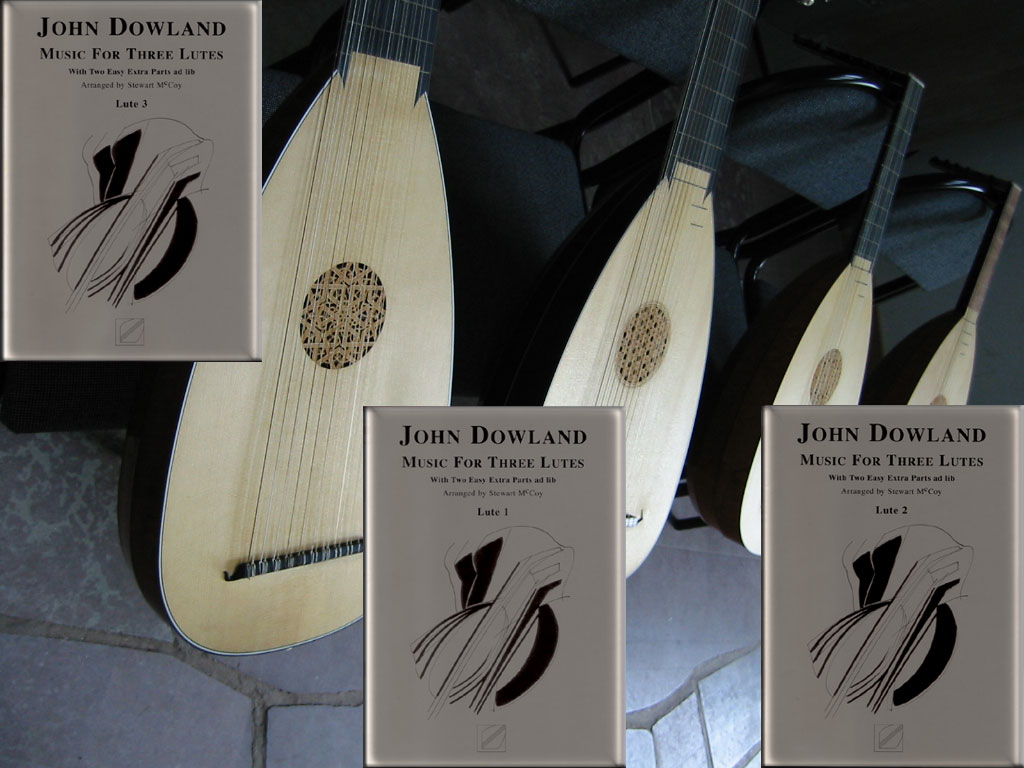 arranged for lute trio (GGD)
with two easy extra parts (GG) to be added ad lib.
by Stewart McCoy
Here are some of Dowland's best-known pieces – Lachrimae, The Frog Galliard, and others – together with some of his less well-known ones like The Shoemaker's Wife and Thomas Collier's Galliard.
For players of more modest ability, there are also two extra parts which provide simple chords and an easy melody line, which may be added to the trio or played together as a duet.
Ideal for lute playing days, early music courses, or any occasion when lutenists simply want to have fun playing together.
Second edition 2010
The first edition of Dowland for Lute Trio was well received and quickly sold out. Before printing another batch, we took the chance to put in page numbers, and make a few minor corrections to the music. Otherwise the second edition is much the same as the first.

Set of five part-books: EUR 29.00 + Air mail: EUR 7.00
---
Thanks to Gordon Gregory we can now offer:
The files allow you to practice Stewart's Dowland trios without needing to find other competent players or the always elusive bass lute.
---
Newly Set for Theorbo and Lute
by Stefan Olof Lundgren
Table of Contents
DAWN — Op. 35 / Come / Teares / Unkind / Ladies / Sleepe
DARKNESS — Op. 36 / Darkness / Hellish Jarring Sounds
DUOS — Op. 37 / My Lord Chamberlaine, His Galliard / Weepe
€ 20.00 + Air Mail € 4.00